I'm so excited to show you an illustration of Kizzy!
Elycia of
loveelycia.com
recently did a blog makeover and used some super cute illustrations she had made of her cute little family. I thought they were the sweetest illustrations so I asked her if she would make one of Kizzy. She was so sweet and said yes! I am so happy with the results! She captured all the little details I love of Kizzy, especially the little dots on her nose & her love of yarn! Didn't she do a great job!?
Be sure to check out her adorable blog! Her blog is one of my favorite reads. It is full of cute outfit posts, DIYs, kitty pictures & videos!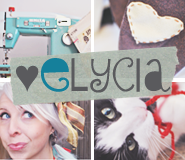 Thank you Elycia!