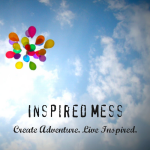 Last month I featured Katja & I really enjoyed doing that so I have decided to do this once a month. This month I'm excited to feature my friend Jamie of Inspired Mess! I love this girl! She is so creative & fun to talk with! I'm going to be meeting her next month and I couldn't be more excited!! I had her answer a few questions about herself and creativity...




Introduce yourself and what you do.
Hi!!! I'm Jamie from Inspired Mess (http://inspiredmess.blogspot.com/). I'm a wife to Brian and a mom to 3 boys. I spend my days working in a law office and daydreaming about creating things. By nite, I craft until my heart's content while separating fights, checking homework, laughing at my kids and making up songs while dancing around the house.




How did you get started in crafts?
I've been a scrapbooker for a very long time, since my senior year of high school (nearly 15 years ago, yikes!). I sold Stampin' Up products for 6 years and would always be hosting "stamp camps" and teaching projects. I quit selling a few years ago and signed up for Elsie's first class and Rachel's first art journaling class. I fell in love. I found all these other things that I love to do and haven't stopped since!




What is the one thing you are most proud of that you have made so far?
My kids. Ha! Other than them (hehe), my family adventure nights. These are nights (or days) that I came up with that always have a theme. There are "missions" for us all to complete and then the night usually ends with a movie that goes along with the theme and popcorn in a fort that we've built in the living room. We've been to Neverland, Space, Treasure Island and been Superheroes. I'm looking forward to creating a book for parents, with an adventure for each month of the year. It's a great way to have fun with your kids and create memories that will last a lifetime!




Where do you find your inspiration?
Everywhere, as cliche as that sounds. I get most inspired and most of my ideas in the shower, while driving or right before I fall asleep. I have to have pads of paper and pens all over the place so I don't forget anything. Music, nature, God, my family, love, my amazing friends, other blogs and photos, commercials, magazines, books.... (I could go on and on...)




What keeps you motivated to keep creating?
I have to create. I always want to and if there's something I don't feel like doing, I just don't. Sometimes I get tired and just relax. Then I'm always looking forward to getting right back at it the next day. If I go too long without creating, something isn't right. I feel like I'm off balance. It keeps me sane and calm. It seriously soothes my soul. (as corny as I'm sure that sounds. ha!) I have a hard time just sitting and being. If I'm watching tv, I'm always embroidering, writing in my journal, crocheting or working on something.




Any advice you'd like to give to new artists who are just finding their creative side?
Just jump in and do it! Do it all! Find what you like and what you don't like. Try everything that appeals to you. When you find things you really like, keep at it. Even if you're not happy with it, if you like doing it then keep doing it. We're so critical of ourselves when we all just need to have fun doing what we love!




Thank you so much Jamie for your answers!
Everyone please be sure to visit Jamie at her blog at http://inspiredmess.blogspot.com/

You can also find her at her etsy shop at http://inspiredmess.etsy.com/ & happy mail at http://happymaillove.blogspot.com/